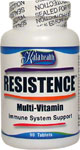 Resistence
Multivitamin
90 Tablets
Item #1100900-AU
| | |
| --- | --- |
| # Bottles | Price Per Bottle |
| 1-5 | A$37.50/bottle |
| 6+ | A$33.750/bottle |
ON SALE
for A$
30.00/bottle
WHAT IS RESISTENCE™?

Resistence™ is a multi-vitamin tablet with powerful immune boosting properties. It includes a combination of seven well-known, powerful medicinal mushrooms, rich and natural sources of amino acids, vitamins, minerals and many other compounds. Resistence™ offers many advantages over conventional multi-vitamins because:
•

Each tablet contains all vitamins and most minerals according to the most recent scientific knowledge. But what makes

Resistence™

truly exceptional is the addition of a mixture of mycelia of seven well-known and well-studied medicinal mushrooms;

•

These mushrooms contain hundreds of active ingredients which have proven positive influence on your health, especially the immune system.
ADVANTAGES OF RESISTENCE™
Reasons why medicinal mushrooms benefit KALA Health's multi-vitamin mineral complex are:
The mushrooms used have a long tradition of use, especially in Asian countries. Many studies have shown their safety and effectiveness, especially in boosting the immune system and enhancing vitality;

A recent Harvard study on the future of food supplements has shown the importance of boosting the immune system. This same study found that out of one thousand selected herbal remedies, five of the mushrooms included in Resistence™ ranked in the top 10 of the most promising immune boosting products.
IMPORTANT INGREDIENTS OF MEDICINAL MUSHROOMS
The seven mushrooms which are contained in KALA Health's multi-vitamin product are well known for their powerful medicinal properties. They contain hundreds of compounds including many biologically active ingredients which benefit health:

• Many vitamins, minerals and trace elements;
• All essential amino acids; Most non-essential amino acids;
• Enzymes;
• Proteins, peptides, cyclic di-peptides;
• polysaccharides, including beta (1,3), (1,4), (1,6) glucans, hetero-beta-glucans; proteo-glucans;
• More than one hundred tri-terpenes;
• Many sterols; nucleosides and nucleotides;
• Many steroids, including provitamin D2.
For more details about the health benefits of the seven individual medicinal mushrooms, please click on the More Info button.

MEDICINAL MUSHROOMS:
HOW THEY BENEFIT US
Medicinal mushrooms are edible mushrooms with unusually high medicinal properties. Because of these powerful properties, more and more physicians are recognizing the importance of medicinal mushrooms in treating a variety of diseases. Polysaccharides are the most important group of molecules in medicinal mushrooms. They stimulate the production of immune boosting molecules which increase the resistance to bacterial and/or viral diseases. The safety of edible medicinal mushrooms is demonstrated by the fact that over 6 million tons of mushrooms are commercially grown and consumed, the majority in Asia.
WHY USE A MIX OF SEVEN MUSHROOMS?
Each mushroom is different and activates the immune system in its own, unique way. Research has shown that a combination of several mushrooms has the greatest benefit, because it allows the body to fight off more virus and bacterial invaders

.

Reishi en Cordyceps were chosen for their broad spectrum positive influence on health. The other five mushrooms, Agaricus, Maitake, Lion's Mane, Zhu Ling and Turkey Tail have unusually powerful immune boosting properties. The latter two also have been shown to have specific anti-microbial and anti-virus activities.
KALA Health Multi-Vitamin
KALA Health Resistence™ multi-vitamin tablets are scored so they can be easily broken for children who need only one-half tablet, or for adults who wish to take one tablet per day divided into two equal portions.
To build resistance against the flue or common cold, and for general health, we recommend one to two tablets per day for adults, one-half to one tablet for children over ten. Take with plenty of liquids (water or herbal tea).