Welcome to the MSM/Glucosamine/Chondroitin Page
A KALA Health product
WHAT IS MSM/GLUCOSAMINE/CHONDROITIN JOINT SUPPORT COMBO?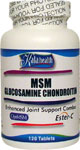 MSM /Glucosamine / Chondroitin
120 Tablets
Item #1001200-AU
| | |
| --- | --- |
| # Bottles | Price Per Bottle |
| 1-5 | A$46.00/bottle |
| 6+ | A$41.40/bottle |
To order, click here: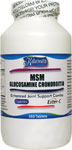 MSM /Glucosamine / Chondroitin
360 Tablets
Item #1003600-AU
| | |
| --- | --- |
| # Bottles | Price Per Bottle |
| 1-5 | A$108.00/bottle |

KALA Health's MSM / Glucosamine / Chondroitin Joint Support Combo is a combination of MSM, glucosamine, chondroitin and several other ingredients, each of which have been proven to benefit painful joints. The amounts and quality of each of the ingredients of MSM / Glucosamine / Chondroitin Joint Support Combo were carefully selected to maximize their ability to fight chronic joint injuries. Each of these ingredients works at different levels to benefit joint problems. Combined in a coated tablet and aided by several support ingredients, MSM, glucosamine and chondroitin enhance each other's activities.
KALA Health's MSM, glucosamine and chondroitin Joint Support Combo offers the following advantages:
•

Taken in the recommended dosage, the tablets contain the optimal amount of MSM, glucosamine and chondroitin according to the most recent scientific knowledge;

•

In addition to MSM, glucosamine and chondroitin, each tablet also contains Vitamin C (as Ester C)

Vitamin C is essential for the production of collagen, elastin and other molecules that make up connective tissue and cartilage;

Vitamin C slows down the breakdown of GAGs, which form the matrix of cartilage (see column on right);

Vitamin C is the most important water soluble anti-oxidant in the body. It protects the body against the ravages caused by free radicals. For more information about Ester C, please CLICK HERE

•

Other important ingredients included are Manganese and Molybdenum. Both are sparse elements in the human body, nevertheless these minerals play an essential role in many metabolic processes. Manganese is known to help with the production of collagen and proteoglycans from the glucosamine and the chondroitin sulfate, while molybdenum plays an important role in the assimilation of sulfur.
MSM/GLUCOSAMINE/CHONDROITIN
JOINT SUPPORT COMBO
is available in bottles containing
120 or 360 coated tablets.
Supplement Facts

Serving Size: 3 Tablets
Amount Per 3 Tablets

% Daily Value

Methylsulfonylmethane (99.9% pure OptiMSM)
1,200 mg
*
Glucosamine Sulfate
750 mg
*
Chondroitin Sulfate
675 mg
*
Vitamin C (as Ester C)
225 mg
375 %
Manganese (as manganese sulfate)
15 mg
*
Molybdenum (molybdenum amino acid)
0.24 mg
*
* Daily value not established
Other ingredients:
Cellulose, stearic acid, croscarmellose sodium, silicon dioxide, magnesium stearate, hydroxypropylmethylcellulose (coating), titanium dioxide (coating).
Directions for Use:
Take two or three tablets twice daily, preferably with meals. Dosage may vary as directed by your health care provider.

MSM
MSM reduces chronic pain;
MSM reduces inflammations and the inflammatory process;
MSM normalizes the immune system, a great benefit to people who suffer from allergies;
MSM supplies sulfur to cartilage, necessary for its regeneration;
MSM improves the activity of many vitamins and other nutrients.
MSM (methyl- sulfonyl- methane) is organic sulfur. With increasing age the supply of sulfur in the body decreases: arthritic cartilage contains only one-third of the sulfur concentration of healthy cartilage. MSM is often considered one of the safest and most effective treatments for chronic pain. Three tablets twice a day supplies 2.4 grams of MSM which is sufficient for most people.
GLUCOSAMINE
Glucosamine, an amino sugar, promotes the formation and repair of cartilage. A shortage of cartilage can cause painful joint movement.

Glucosamine is an important building block of many GAGs (glycosaminoglycans), which are molecules that form the matrix of cartilage.

It is

derived from chitin, a substance which gives strength to the exoskeleton of crabs, lobsters, insects and spiders.

KALA Health's formula uses the glucosamine sulfate form as most research has been done with this type of glucosamine. It is a very safe and easily assimilated glucosamine molecule. Three tablets twice daily supplies 1,500-mg glucosamine, essential for the maintenance and proper functioning of cartilage, and the production of new cartilage.

CHONDROITIN
The cartilage in the joints act as a spongy 'shock absorber'. For this it needs special substances to attract fluid. Chondroitin, another natural substance made in the body, attracts fluid into the cartilage like a liquid magnet. Without this fluid, cartilage would become malnourished, thinner and more fragile.3 In this way Chondroitin protects cartilage from breakdown and also stimulates the synthesis of new cartilage, important for healthy joints.

Chondroitin works best when the molecules are small and easily taken up by the body. Cheaper forms of chondroitin are a waste of money as they are passed through the body without benefit. KALA Health's chondroitin is guaranteed to contain in excess of 90% active ingredient, and has a small molecular size (<25,000 Daltons) that allows it to be easily assimilated.
Three tablets twice daily provide 1,200 mg of chondroitin that is the recommended amount for optimal results. This dosage is also considered safe.
MANGANESE
Manganese is an essential mineral found in large quantities in both plant and animal matter. Only trace amounts of this element can be found in human tissue, however. Manganese supports many enzyme controlled reactions, and plays an essential role in the formation of GAGs (see above). It aids in the formation of connective tissue, bones, blood-clotting factors, and sex hormones.

Low levels of manganese in the body can contribute to bone malformation and weakness. Experts estimate that as many as 37% of Americans do not get the recommended daily amounts of manganese in their diet. A few studies of people with osteoarthritis suggest that the combination of manganese supplementation taken along with glucosamine and chondroitin can reduce pain associated with the condition.